Classes
The Glass Angel offers 4 classes per week in a spacious classroom located within the store.
The Glass Angel classes run for 6 weeks at 3 hours each.
Wednesday and Saturday morning classes begin at 10am and Tuesday and Thursday evening classes begin at 6pm.

If you would like to register for these classes, please call The Glass Angel as soon as possible (336-227-1231) to reserve your spot or to get additional information.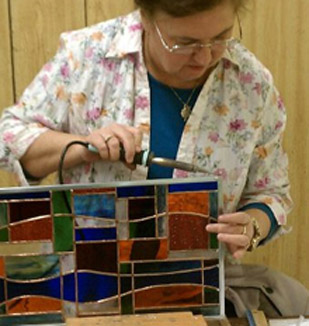 Lisa teaches both beginners and experienced students.
Lisa is also available to help her stained glass customers with glass selection for their projects and will help with technique review to assist even the experienced glass cutter to create a better finished project.
Classes are held on Tues or Thurs evening 6-9
or on Wed or Sat morning 10-1 to easily fit into your schedule.
Four chances a week to take class and learn the art of stained glass construction.
Upcoming class sessions are announced on the Activities page
and class session dates can be found on the Events Calendar page .
Projects vary by student. Whatever your imagination and color scheme each project will be uniquely your own. With Lisa's experience and talent for teaching a student's vision can be transformed into the quality project they want to display in their home or give as a gift.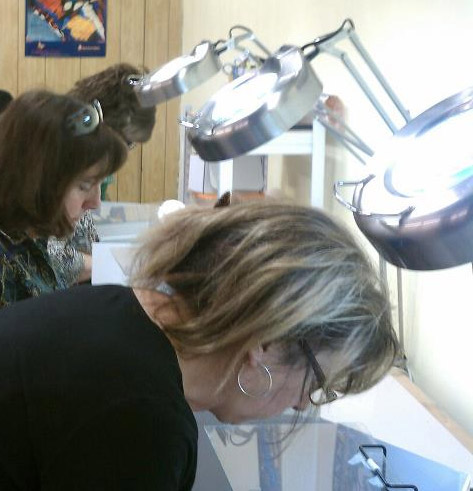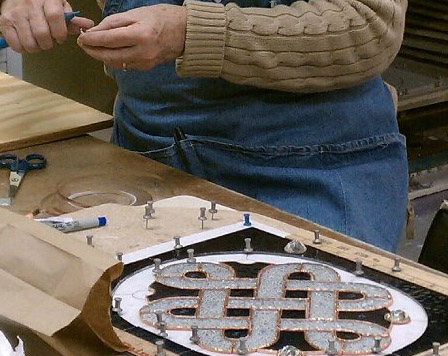 The classroom is spacious and well lit with plenty of room to spread out to work.
A bank of grinders allows students to keep working without waiting.
Each table is supplied with irons and holders at each work station
And best of all it's a lot of fun.